The Solution
Prime Time Parenting is a two-hour routine for school nights that helps children succeed and families thrive while ensuring parents have time to relax and recharge once the children are in bed. It's for children aged 5 to 13.
Reconnecting with Our Children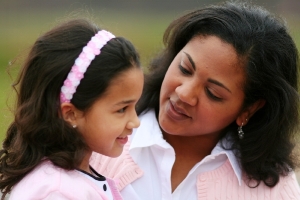 Prime Time Parenting takes parents through the critical steps of a healthy school night routine, from reconnecting with one's child to helping them start their homework while you start preparing dinner.
You'll learn how to prepare quick and healthy meals for your family no matter how busy your week is. And you'll also learn why family dinner is so critical to children's intellectual and social development. (Hint: it's the conversation.)
Helping Kids Succeed as Learners
Children need lots of parental help organizing their work each and every night. Prime Time Parenting discusses how to help your child develop this skill. Find out why a neat and organized backpack makes a huge difference to how your child begins the school day.
Developing a Book-Bath-Bed Routine
Children are increasingly at risk of sleep deprivation. Learn how to create a bedtime routine and a bedroom atmosphere that will invite rich sleep for the recommended 9 to 12 hours.
One of the benefits of getting the kids to bed on time is that it enables parents to take much-needed time to themselves. Learn the best ways to unwind, relax and recharge in Prime Time Parenting.